Welcome to the online Flower and Gift Shop for University Hospital in Madison, Wisconsin. Through this site, you may order flowers and/or gifts for delivery to patients staying at our hospitals.

Gift shop hours: 8:30-7pm Monday-Friday and 11am-3pm Saturday-Sunday

We will make every effort to deliver your gift order on the requested date. Learn more about delivery terms and conditions and our refund policy. If you have additional questions, contact us or call (608) 263-6472.

Some patients may not be able to receive live plants and flowers during their treatment. If you are unsure whether the patient to whom you want to send a gift is allowed to receive plants or flowers, please call patient information at (608) 263-8591.

You may also make in-person purchases at the University Hospital Gift Shop, located on Main Street on the second floor near the main information desk. Proceeds of flower and gift sales benefit our patients and families.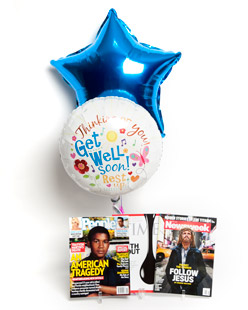 Magazine and Balloon Bundle
$24.90
Filled with informative and entertaining articles, magazines are a great way to spend time recovering. This bundle includes one issue each of Time, Reader's Digest, and People. Substitutions may be made. We carry a wide variety of magazines so please indicate any other title preferences in the Special Requests field. Two 18-inch mylar balloons and an enclosure card round out this thoughtful gift.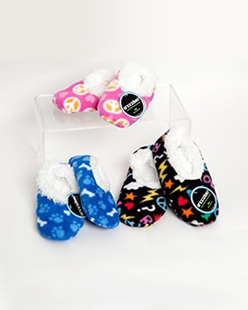 Snoozies Slippers
$23.92
Warm and fuzzy, these slippers will not only keep your friend or loved one's feet warm, but the non-skid bottom will also allow them to walk the hallways without slipping. Snoozies come in many different designs and colors for women and men and every pair has a non-skid bottom. We complete the package with two colorful mylar balloons and an enclosure card.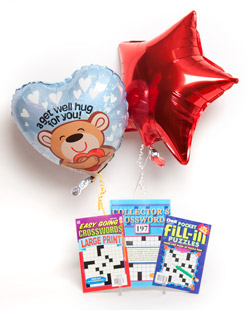 Puzzles and Balloons
$20.90
Puzzle enthusiasts will love this gift bundle! Choose from crossword puzzles – for novices (pencils) and experts (pens) alike - Sudoku puzzles, word seek and circle puzzles or a variety pack. The bundle you choose will include two helium-filled 18-inch mylar balloons and an enclosure card.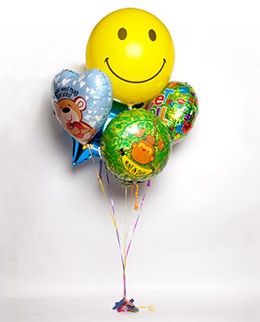 Bubble Balloon Bouquet
$24.90
Bright, colorful balloons will cheer up a patient's room and bring a smile to his or her face. This bouquet has one large, beach ball-sized balloon and four colorful mylar balloons. An enclosure card is included for your personalized message. Balloon designs will vary.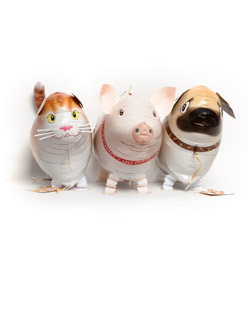 My Own Pet Balloon Animal
$15.94
For the pet lover in everyone! These adorable pet-shaped mylar balloons are on a leash and are specially weighted so they "stand" and "walk," just like a real pet. Animal selection includes pug, pig, terrier, cow, dachshund, duck, golden retriever, chicken, pointer, panda, corgi, ladybug, shiba inu, penguin, cat and tyrannosaurus rex. Indicate your 'pet' preference in the Special Requests field during checkout.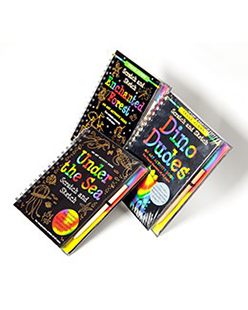 Scratch and Sketch Activity Book
$23.92
The ultimate in drawing fun! Use the wooden stylus to scratch the black coated paper and reveal a colorful, fun drawing underneath. This package comes with two cheery mylar balloons and an enclosure card.